Our Products:

User-Focused Business Solutions
Empowering the future of your business
No one should feel like a third wheel, especially when it comes to your business's software needs. We have a fleet of products catered to all persons, from the garage startup to your local company and beyond. For users, by users, from start to finish.
A True Game-Changer
Release yourself from the shackles of "Big Payroll" with a scalable, modernized platform centered around you, the user, equipped with the freedom to self manage and service.
WholesalePayroll enables you to get your people paid without being bogged down by red tape and tedious processes. Keep your data forever, cut out the middleman, and streamline your payment flow with lightning-fast performance at an affordable price point for any business size.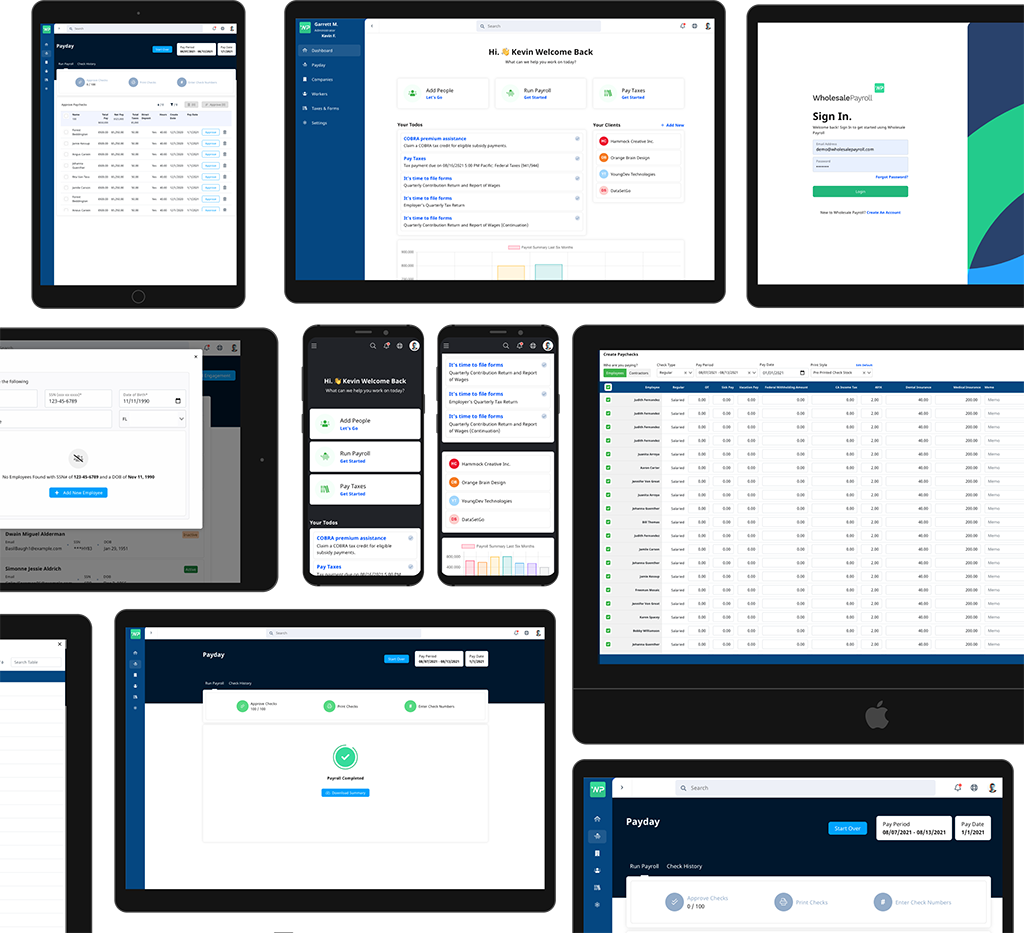 Accuracy & Automation
We guarantee tax calculation accuracy and timeliness for filing, taking out the guesswork and uncertainty that so often plagues the end user.
Inline Editing
Step by step, line by line editing capabilities during every step of payroll processing give you more control and oversight.
Historical Editing & Data Retention
WholesalePayroll comes equipped with fully functional historic editing with automatic tax payment/refund and form amendments for e-filing or manual filing.
Quick & Easy Onboarding
Onboarding doesn't have to be difficult. WholesalePayroll allows you to export or import when migrating from QBO or IOP platforms.
Self Service - No Middleman
No more relying on someone else to fix day to day issues. Harness the power of a next generation payroll platform that allows you to handle things on your terms - no outside help required.
Historical Reporting
Tax man knocking at your door? Dig up that regional invoice from years ago with ease, as your data stays archived - until you no longer need it.
Built For You
Whether you want all of the bells and whistles or the bare essentials, WholesalePayroll can cater to your individual business needs, providing exactly what's required, every time.
Financial Research & Lead Tracking
ErisaMiner transforms tedious 401k plan research into a powerful engine for generating new leads, at home and across the country.
Search through tens of thousands of companies' publicly available 401k plan tax information, all consolidated into one search engine with varying layers of granularity and analytics. You'll find so much more under the hood here, with expanded search and filtering options so you can narrow down to exactly the audience you're looking for.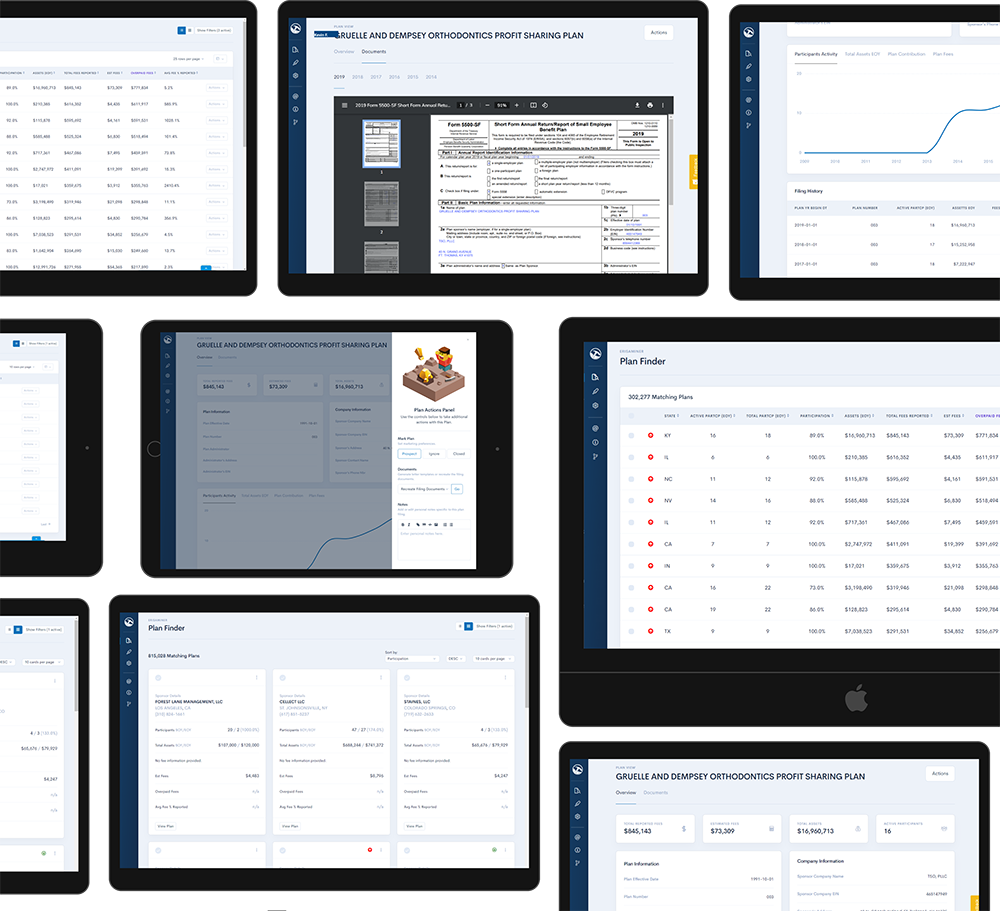 Lead Generation
Generate marketing material specific to each lead, keep track of it all, and never worry about mixing up your pitch from one customer to the next.
Lead Tracking
Manage lead and customer communication without ever leaving the platform.
Cruise Control For Your Payroll Business
Looking for a more hands-off payroll approach? We've got you covered, with decades of payroll expertise to put your business on cruise control. PayrollSupport is a white-label offering for those with too much on their plate already.
Let someone else handle the day to day of payroll and office supplies. PayrollSupport allows you to focus on what's important to you and your business, while we handle the rest.
Automated Compliance
It's tiring to go back a few years to manually update a W2, complete all of the amended tax forms, and remain compliant. PayrollSupport makes this process a breeze with automated form updates and changes, all pushed out the door when they're ready - no accounting degree required.
Payroll Outsourcing
The stress can roll off your shoulders when you lean on the experts at PayrollSupport. Outsource it all to them [us?] and free up your valuable time and energy.
The Future Of DataSetGo
Product Roadmap
DataSetGo EFiling-Engine
Intended to work best alongside Tax Engine, E-filingEngine keeps you in compliance, with easy access to record history and more.
Future Development
HuumanHR
Reconnect with your employees by cutting out that which pushes you away from them. Improve engagement by automating away every day HR processes, and giving you and your department more time doing what they do best: bringing the human element to the office.
Future Development
DataSetGo Community Platform
Increase customer loyalty, improve retention, and build interest with a rewards driven community platform.
Future Development
Team Work Makes The Dream Work
Partner Programs
White Labeled Solutions
Sometimes you want to take something and mold it into your own. Let us help with various white label offerings from our diverse fleet of products.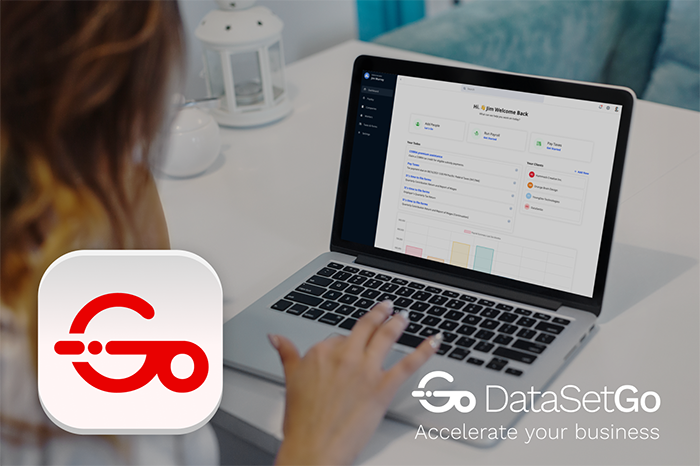 Affiliate programs
Keep it in the community with our affiliate program.

For every new customer earned, we'll cut you a slice of the pie. A percentage of gross earnings will be paid out to you, our affiliate, every time a sale is made, up to an agreed upon limit.

Hand out and share your exclusive link with your user base, helping to generate new leads and sales for the product. Every user that clicks through is another potential sale, and another added percentage.
Referral Programs
Pass on the good word, and we'll send a kickback your way.

Help find subscribers to WholesalePayroll, or help users find WholesalePayroll providers.

We'll even pay you to do it. For every customer that signs up using your referral link and sticks around, you'll receive a commission based payout.

We're the only payroll software provider helping our subscribers get customers! Its a win-win. And, we're excited to help grow our subscribers income by sharing in ours